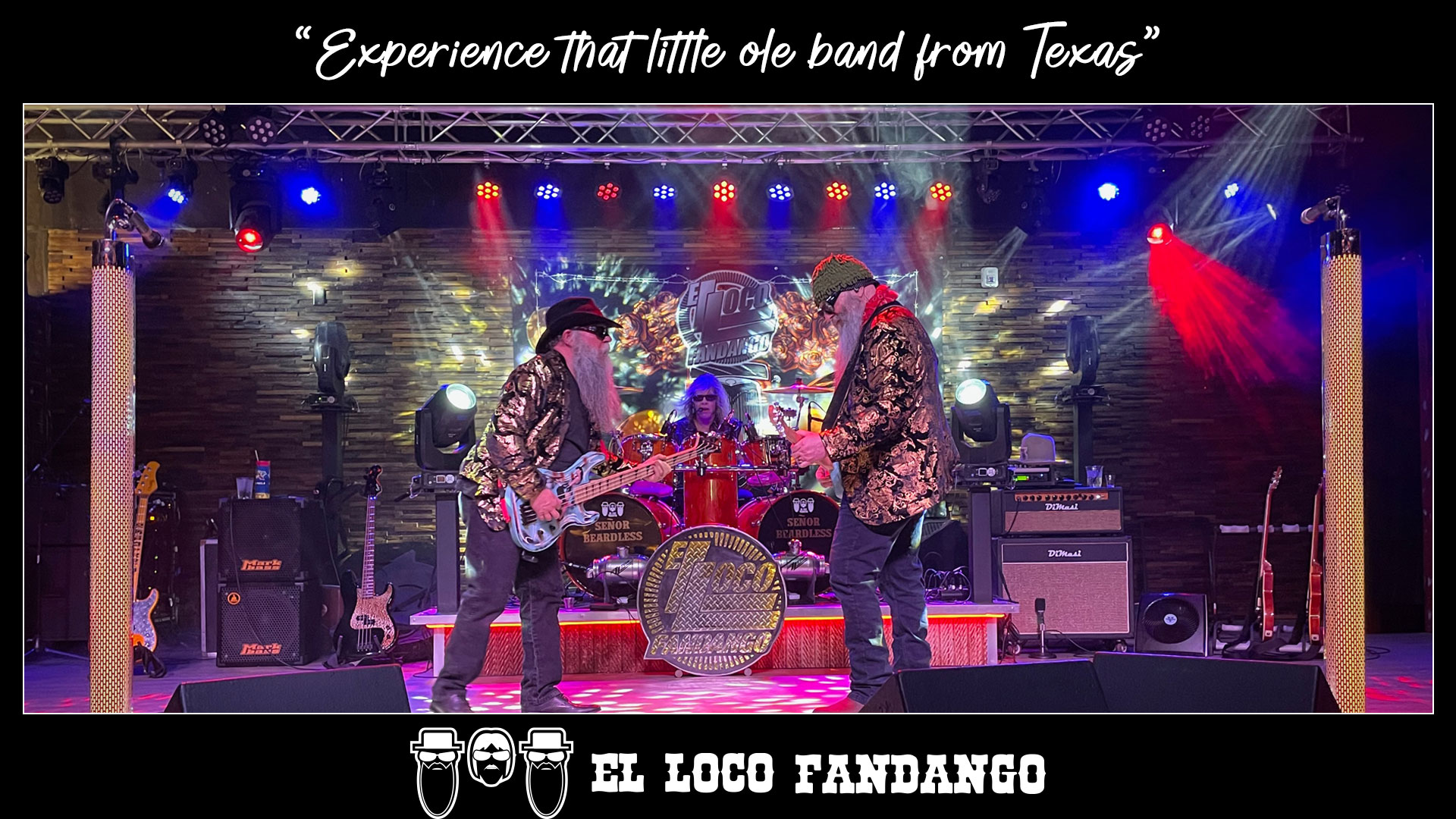 EL LOCO FANDANGO PROMO VIDEO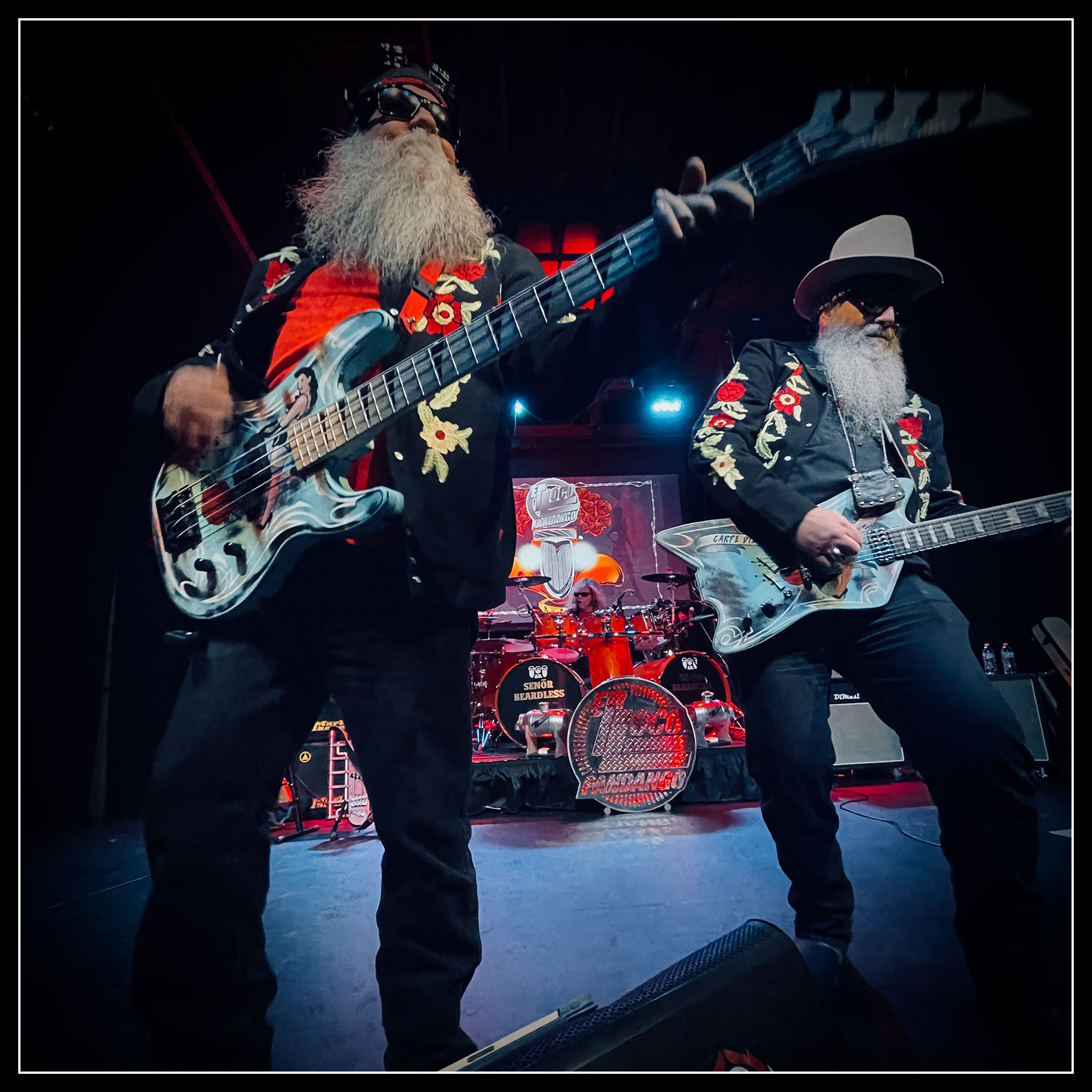 Although El Loco Fandango was officially formed nearly 2021, the idea had been floating around for some time. Don and Mike often heard "hey it's ZZ Top" when they were seen together at a bar or local show. The "fateful" day that Tim Elliott overheard the comment, he stepped up and the trio was born! For the next several months, the guys put together a set culled from ZZ Top's vast, 50 years in the making, library of songs.
Tribute bands are all about the details, so creating a great ZZ Top show required a lot attention to both look and sound. Don, Mike and Tim carefully crafted the tone to emulate the live performances as well as the recorded versions of their biggest hits. When it comes to wardrobe, a lot of time has been spent shopping at fine Western wear, searching for proper beard care and ensuring the proper amount of "bling" is present on each ensemble. All that, along with the wide selection of matching instruments, bring unmatched authenticity to the show.
EL Loco Fandango been a major success and in a short time the boys have established themselves as one of the top tributes acts in Colorado. This year's schedule will go across state lines and get them on the road to be truly "Nationwide". Be sure to check out "That Little Old Band from Texas Experience" at a venue near you, and bring your Tube Snake Boogie shoes.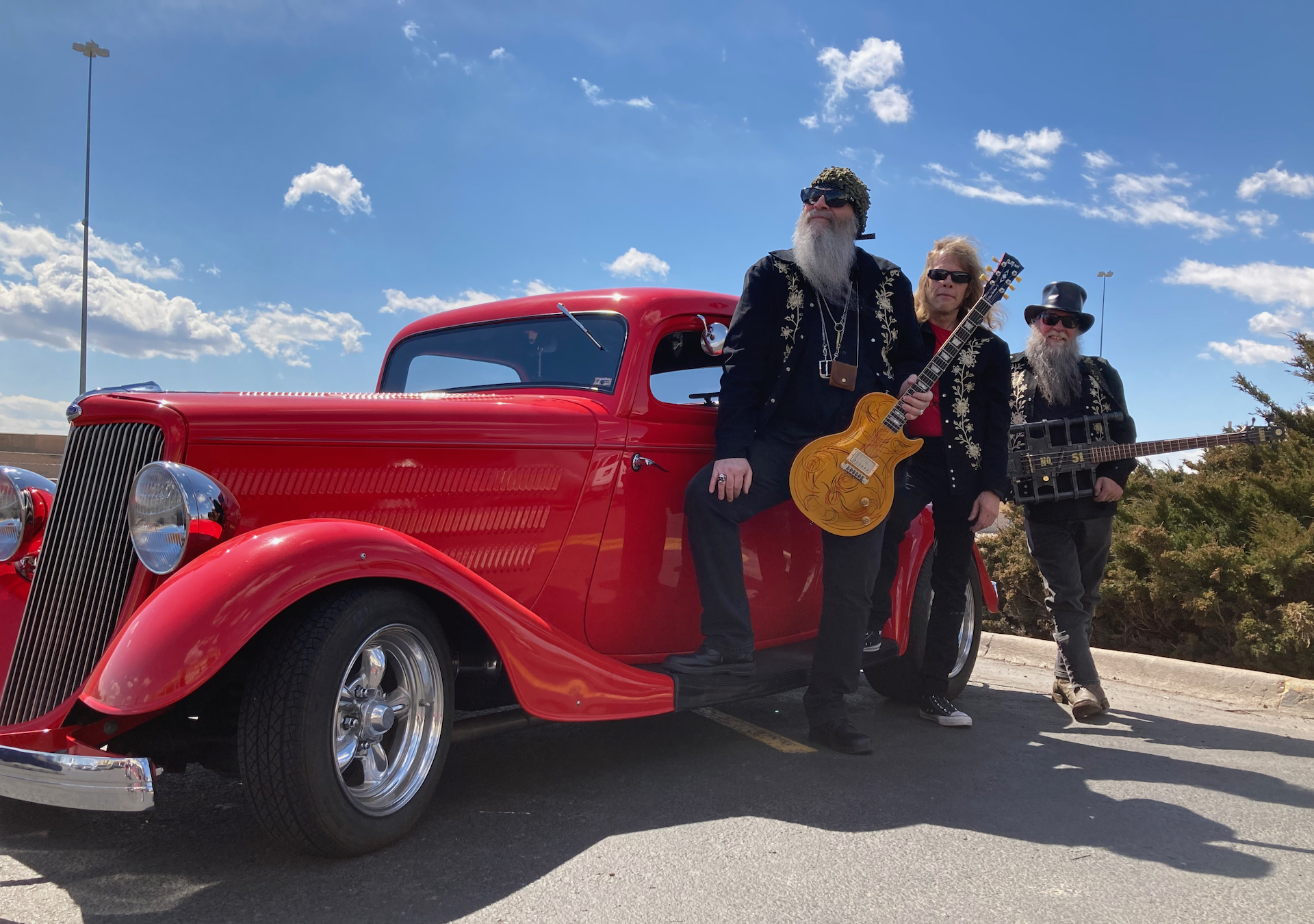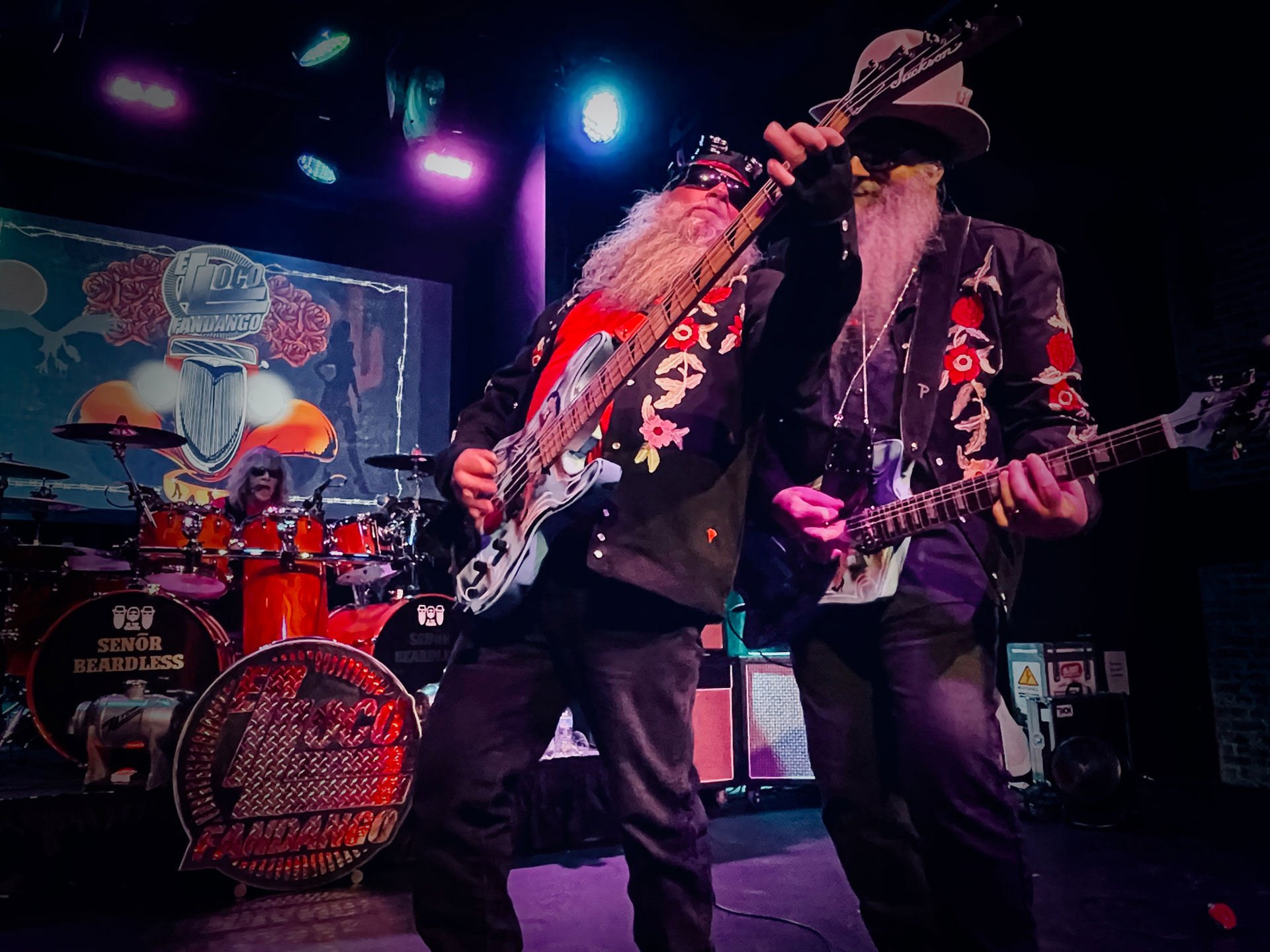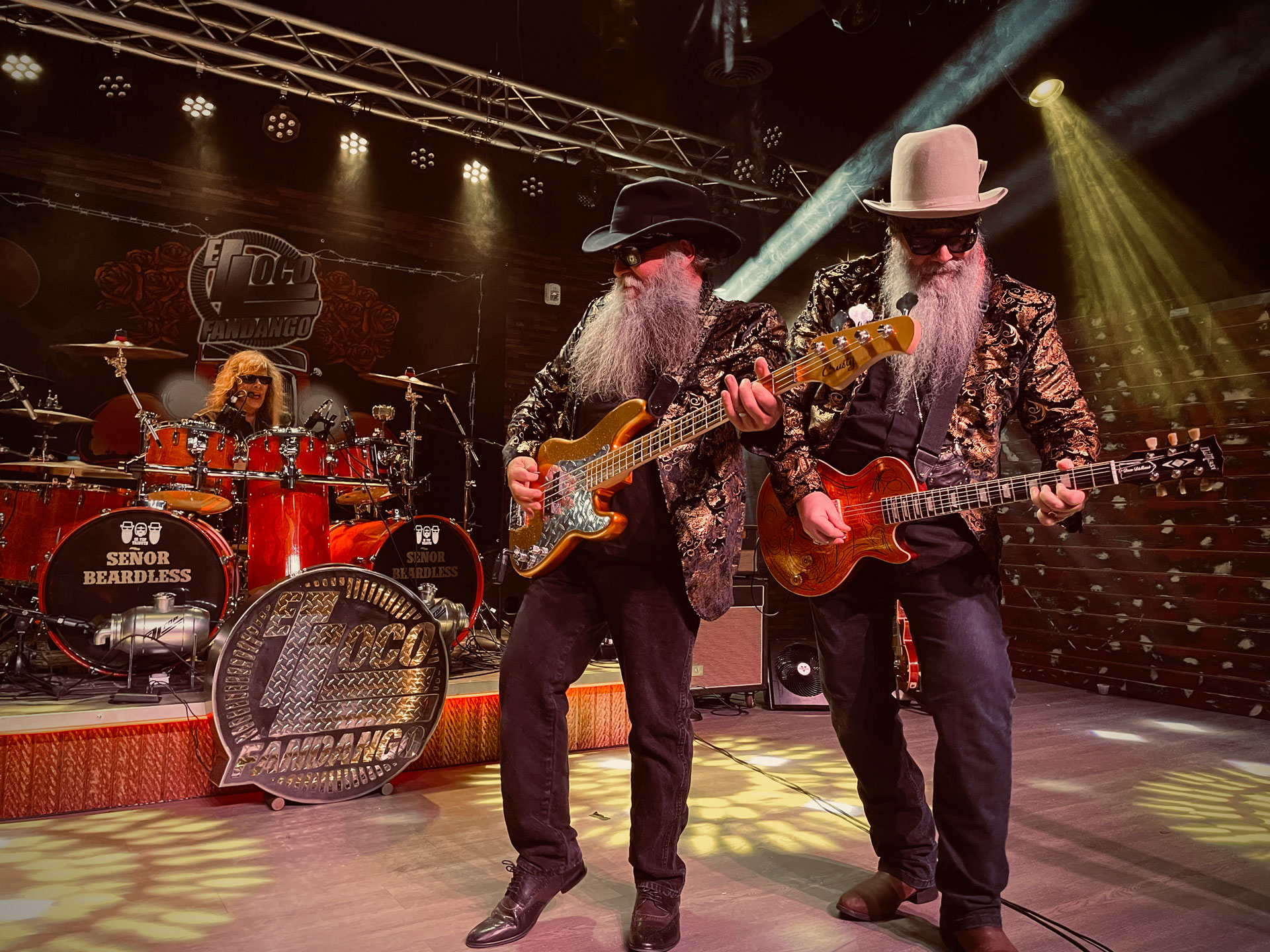 By far the most authentic ZZ Top Tribute Band in the USA. The attention to detail with both the music and the look are incredibly accurate and true to the real band. I sometimes do a double-take when I see them and have to look closely to see if it's El Loco Fandango or ZZ Top!
~Bill Owen
As Tribute bands go These guys are doing it RIGHT. The look, the guitars the performance is spot on as a great tribute should be! If you close your eyes you'd swear you were at a ZZ Top concert! Nuff Said!
~Brent Enman
Really enjoy the dedication to the authenticity of their tribute to the music, look, sound and personality of that little ole band from texas!!!!!
On a personal level they are all amazing people.
~Gary Yost
My brother and I have been going to ZZ Top shows since 8th grade. We've seen them 40 times or more. El Loco Fandango has played twice now at Legends Rock Bar , even once on our Birthday. I'm not sure what's more amazing, that they look exactly like our blues heroes or their ability to play note for note over 30 songs. It's truly mind blowing and they even build their own guitars. Put them on your list and you will never forget the coolness. I'm just waiting for them to add Dust my Broom to the set list, if they haven't already.
~Scott Fishburn, Owner Legends Rock Bar in Colorado Springs
EL LOCO FANDANGO STAGE PLOT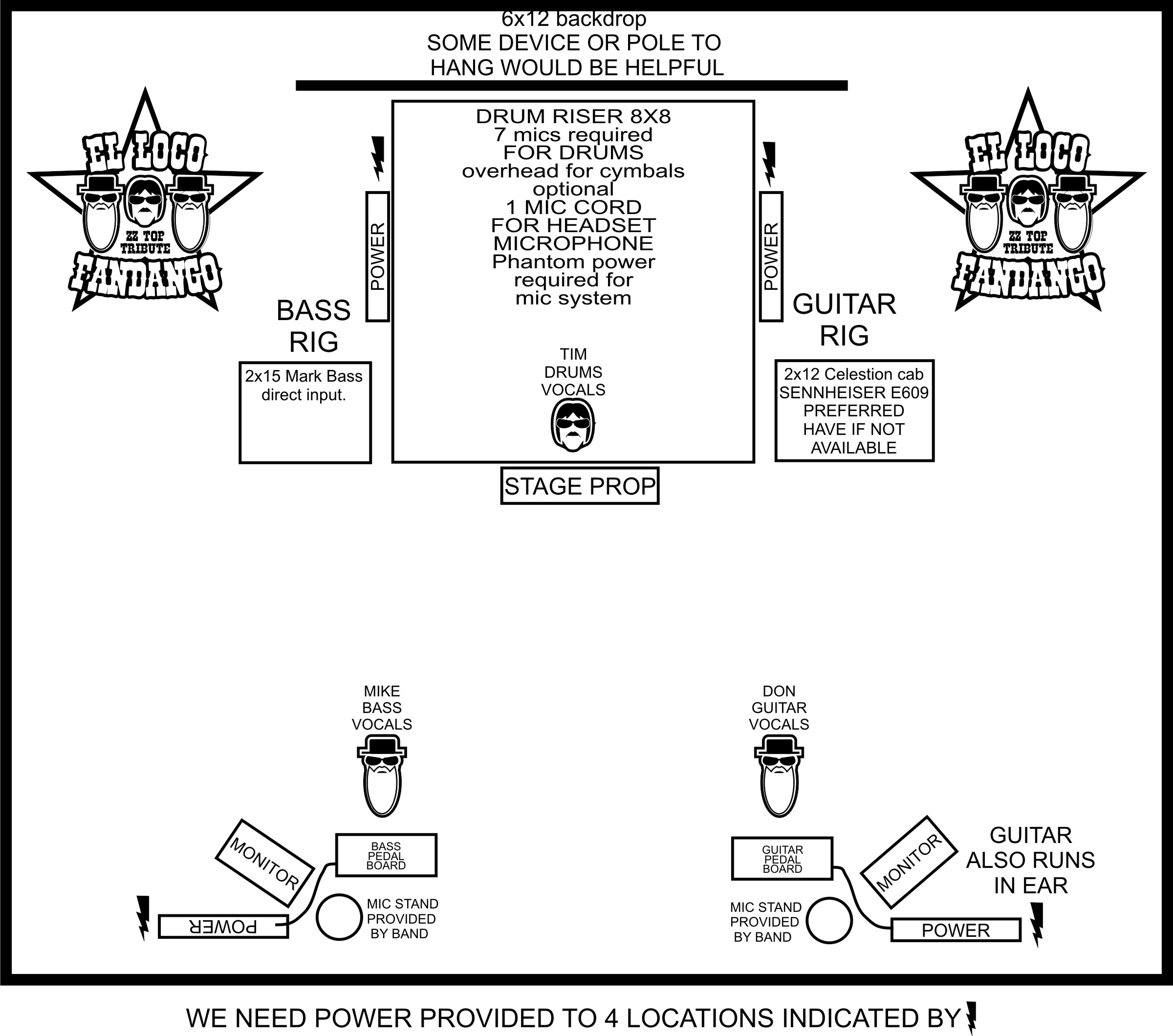 Under Pressure
Thank You
Waiting For the Bus
Jesus Just Left Chicago
Gimme All Your Lovin'
I'm Bad I'm Nationwide
Gotsta Get Paid
Tube Snake Boogie
Balinese
Just Got Paid
Blue Jean Blues
Beer Drinkers and Hell Raisers
Cheap Sunglasses
Sharp Dressed Man
Brown Sugar
La Grange
Tush
Sixteen Tons
Legs
Arrested for Driving While Blind
Nasty Dogs and Funky Kings
TV Dinners
Francine
Fool For Your Stockings
Pearl Necklace
My Head's In Mississippi
Heard it on the X
I Got the Six
Stages
Double Back
Need You Tonight
Hey Joe
Oil & Gasoline